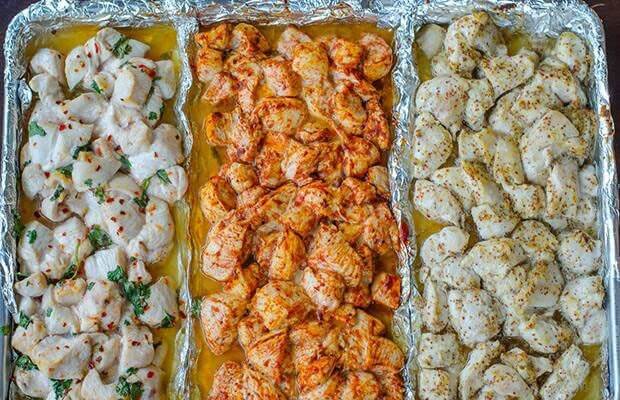 Eating healthy is the only way to lose weight and get rid of unwanted inches and if you are reading this blog, you probably have tried to follow a healthy meal plan at least once. Clean food does require some preparation and involves cooking the food we eat, which some of us may not find an attractive endeavor, due to our busy lives. In the Netflix documentary "Cooked" Michael Pollan hypothsizes that cooking is what made us the species we are today and that it is one of the most basic instincts of Homo Sapiens. Instinct or not, it does not mean that we should spend our whole lives cooking and prepping meals for the week, so we decided to provide you with 11 shortcuts to clean-eating"
1) Start with Planning
Pick a day to plan out the week's meals and hit the grocery store. For most of us, Sunday is the easiest day to check out what's already in the fridge. Look at what your schedule is for the week and what types of food would work with your schedule. Write out a tentative menu for the week, make a grocery list and shop.
2) Use What You've Already Got
To save yourself time and money, plan meals around ingredients you have in the house. What can you do with that bag of brown rice and lean ground turkey? Burrito bowls for lunch? A base for a stir-fry dinner? Yum.
3) Cook Once, Morph it Later
Make big batches of grains and proteins—like quinoa, chicken or hard-boiled eggs—that you can use in different ways throughout the week. Hard-boiled eggs make a great breakfast, snack, or salad topping, chicken can be flavoured anyway you want and added to lunches or dinners; while quinoa can be served as a side dish or become the base for a salad.
4) Get Creative with Condiments & Seasonings
You can use herbs, spices, and condiments to give basic foods different flair for different meals. Say you have a carton of egg whites in your fridge, one day, you add herbs to the egg white for an easy omelet for breakfast or lunch. Another night, you stir in coconut aminos, ginger, garlic and hot sauce and use the mixture to top brown rice in a skillet for an Asian-inspired fried rice. You just visited two totally different flavor towns via that one "boring" egg white carton.
5) Season meat three ways using just one pan.
Line a baking sheet with aluminum foil. Roll a long piece of aluminum foil so that it resembles a stick and place that in the baking sheet to create a divider. Repeat the process for the number of columns you would like. Evenly divide your chicken breast pieces and then season them individually. Add the seasoned chicken pieces into the baking pan.
Depending on the amount of chicken in the pan, your baking times will vary.  Here I had roughly 6 pounds of raw chicken so I cooked it at 400F for 20 minutes.  Remember since these are smaller pieces, they will cook faster.
Here are the seasoning ideas (to taste). I recommend mixing the ingredients together in separate bowls first so you can taste and customize to your liking:
a.  Fresh juice from 2 limes, 1 tbsp red pepper sauce (or Sriracha), 1 tsp ginger paste, 1 tsp garlic paste, cilantro
b.  1 tsp chipotle chili pepper, 1 tbsp paprika, 1 tsp cayenne, 2 tsp chili powder, 1 tsp cumin
c.  2 tbsp spicy mustard, 1 tbsp garlic paste, 1 tbsp Rosemary, 1 tbsp Basil.
6) Roast different vegetables with same cooking time.
Roasting vegetables is a great way to bring out their natural sweetness, but waiting 30 to 40 minutes for each pan of nutrient-rich goodness to cook can be time-consuming. To prep a large batch of veggies, try pairing them on their separate pans based on roasting time. Fast-cooking vegetables that can bake in the same pan include asparagus, mushrooms and cherry tomatoes; slow-roasting vegetables include carrots, cauliflower, onions, potatoes and parsnips.You can pop all the trays in the oven at the same time at the chicken above, just set different timers to know when they are done.
7) Keep it simple.
When cooking white fish, no need to get fancy with cooking methods to make it tasty. Line a try with aluminum foil. Space fish not overlapping onto tray and simply spread a layer of smooth Dijon mustard onto each fillet. Bake for 15-20 minute at 400F, or until fish is cooked to desire.
8) Slow cook it.
Alternatively, you can cook up a large batch of white fish or chicken in the slow cooker. Fish cooks for 2-3 hours on high or 4-5 hours on low. Chicken takes 7-8 hours on low or 3-4 hours on low. Toss ingredients in the slow cookers before you go to bed and wake up to food for the whole day ahead.
Balsamic chicken: 1/4 cup balsamic vinegar, 1/2 cup water, stevia to taste, 3 cloves garlic, minced, 5-6 bone-in, skin-on chicken breasts, 1 teaspoon dried basil, 1 teaspoon dried oregano, 1/2 teaspoon dried rosemary, 1/2 teaspoon crushed red pepper flakes, optional Kosher salt and freshly ground black pepper to taste
Dill fish:juice of 1 lemon, ½ cup water, 1-2 tbsp dried dill, 1tsp cumin, 2 cloves garlic, 2lbs white fish of choice, optional Kosher salt and freshly ground black pepper to taste
Check out his infographic for a rosemary chicken with potatoes (you can replace them with sweet potatoes to make the meal even more nutritious)
9) Multitask Your Oven or Grill
You can roast chicken breasts, veggies, and potatoes together just as easily. Why wash three pans if you could only scrub one? (And remember, it takes the same amount of time to grill or roast three steaks that it takes to grill just one)
10) Freeze Away
For dinners later in the week, pick out two slow-cooker recipes, and prep and combine the ingredients in freezer bags. Stash them in the freezer until you're ready for that meal. You can also cook all your meat for the week on Sunday's, storing half in the fridge, half in the freezer. Midway through the week when the stock in the fridge drops, put the meat in the freezer into the fridge.
11) Outsmart Time Consuming Ingredients
Ingredients you use often but might require extra washing and chopping can really drag out your meal-prep process. Go for jarred garlic and ginger, pre-washed salad greens, and frozen vegetables. You just simplified the process of making your meals. Plus, to save valuable minutes on veggies, use ready-to-steam bags, low-salt cans, or freezer bags.
Check out the video below to see how Ana preps her meals for the week:
by: , Registered Dietitian, BMBB Coach
About the author : ikalinin