The holidays are upon us. Streets and stores are bustling with the light and sounds we all know well. As we plan our gatherings with friends and family we look forward to a break from the norm of work life. Along with all these festivities are invitations to try new restaurants and dine out at old favourite spots. Over the months leading up to now, you have been working hard at eating well and working out, seeing progress in your fitness levels. Maybe you managed to lose weight and get rid of a few extra inches? Maybe you improved your strength and now are able to do push ups off your toes? Whatever the results are, it feels great to be healthy and fit, so keep that momentum going!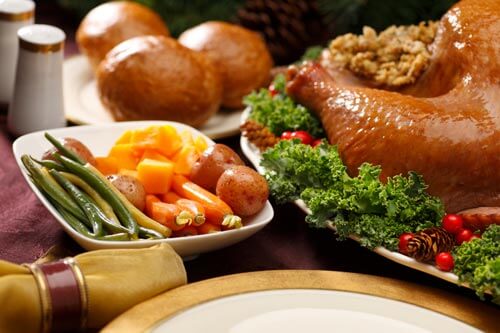 I know for myself, I aim to stay lean year round but when a friend invites me out, I stand firm in not letting them down. The reality is, life happens and celebrations come about. At first it may seem overwhelming to try to search through menus to find items to keep on track. Here are some tips to help you navigate going out for dinner the next time a friend calls. It's time to enjoy the holiday season out in the town:
1.  Suggest the place: Whether it be a restaurant or chain you are familiar with that has healthier menu items, or a joint where you know the staff and are comfortable asking for modifications to your meal.
2. Call ahead: Don't be afraid to call in advance and ask questions! I always call in advance to ask about ingredients or to ask about the menu if not posted online.
Once you decide where you are going to eat, try some of these tips when ordering:
3. Don't be afraid to ask: If you don't know what's in a dish or don't know the portion size, talk to the wait staff, asking to specify.
4. Opt out of carbs: Carbs are easy to overeat and they add up, especially during the holiday season. They also are usually cooked in fat to enhance the flavor, so they are better be left out of your plate. Grilled meat, fruits and veggies are the way to go when ordering in the restaurant.
5. Watch the portion: Try to eat the same portion as you would at home. If the serving size is larger, share some with your dining partner, or put the extra food in a container to go.
6. Ditch the added fat: Ask for fish or meat broiled with no extra butter or oil. Order your baked potato and vegetables plain, cooked without added oil. Add pepper at the table and a splash of vinegar for tang.
7. Dip instead of drench: Ask for sauces, gravy and salad dressings "on the side." Try dipping your fork tines in the salad dressing, then spear a piece of lettuce. Or add a teaspoon of dressing at a time to your salad. You'll use less this way.
8. Order foods that are not breaded or fried: The breading adds carbohydrate, fat and calories to the food. If the food comes breaded, peel off the outer coating.
9. Opt out of bread: Ask the waiter not to serve bread to the table if it doesn't fit into your meal plan.
10. Read the menu creatively: Order a fruit cup for an appetizer or the breakfast melon for dessert. Instead of a dinner entree, combine a salad with a lower calorie appetizer.
11. Ask for substitutions: Instead of French fries, request a double order of a vegetable like salad, green beans or broccoli. If you can't get a substitute, just ask that the high-fat food be left off your plate.
12.Ask for low-calorie items, such as salad dressings, even if they're not on the menu. Vinegar and a dash of oil or a squeeze of lemon are a better choice than most full, fat high calorie salad dressings.