ABOUT BUILD MY BODY BEAUTIFUL
About Build My Body Beautiful (BMBB)
"Our mission is to introduce health and fitness into women's lives, and empower them to not only build a beautiful body, but to create a positive self-image and feel confident from inside out."
Team BMBB
Build My Body Beautiful brings together the disciplines of sports psychology, fitness training and nutrition to enable women to look and feel their absolute best, from inside and out. It's not only about fitness, but also empowerment, inner strength, confidence and a fabulous body to go with it!
This unique range of services achieves an understanding of the psychology of motivation and success; especially with weight control and attaining the highest level of fitness and sports performance. It's about exploring the emotions, needs and obstacles that a woman faces; finding time for self, balancing friends, family and work life and overcoming fears of getting started. Understanding these truly personal elements is the first step in developing the individualized programs to build a beautiful body, positive self-image and control over your life.
Build My Body Beautiful – Principals
Hi there! We are Ana and Ivan, from Build My Body Beautiful. We have been involved in the fitness industry for over 15 years, exploring various domains in this field from sports to the gym, and working closely with people to help them achieve their goal. We met at the gym (where else?), and quickly discovered that we share the same love and passion for continuously expanding our knowledge in this field and helping people better their lives through healthy living and fitness. We also learned that we share the same philosophy that fitness is beyond just diet and exercise, it's about motivation and confidence that empowers you to realize that you can achieve anything that you set your mind to.
Read More
My name is Ana and I founded Build My Body Beautiful in 2010, after quitting my job as a corporate executive. I had a dream of helping women achieve success and confidence and knew that feeling healthy and looking fit plays an enormous role in this. I began with just one class, twice a week and soon attracted a great number of clients, who benefited from my expertise of being a lifetime athlete. After two years of operation, my practice grew tremendously and soon I realized that I needed a partner to be able to manage the workload and continue to grow the company.
Ivan and I became close friends, then training partners, and eventually decided to do the same fitness competition together. Fitness contest preparation is very challenging both physically and mentally and we knew this was a good test to see how well we would work together. There were 18 weeks of intense training and strict dieting, emotional roller-coasters… and yet we motivated and supported each other 100 percent along the way. All the hard work paid off, we both placed top three in our categories. We then knew that we should collaborate our efforts and work together so we can help our clients achieve even better results.
Over the years of working with people and helping them achieve their goals we have noticed that fitness has a much greater effect on people's lives than just sweating in the gym for an hour or eating a salad instead of ice cream. Fitness helps people feel good about themselves, relieves stress and increases confidence. It is also a type of a preventative medicine, as exercising and eating healthy foods can prevent many diseases. We enjoy the reward of guiding our clients towards health, confidence and happiness. Our mission is to reach out to as many people as possible to educate them about fitness and healthy lifestyle. We think that by doing that we will make women enjoy their lives more and simply be happier!
Build My Body Beautiful Team
Founder of Build My Body Beautiful
Award Winning Fitness Competitor
Fitness Author
Personal Trainer/Nutrition/Competition Coach
Certified Personal Trainer Specialist (Can-Fit Pro)
Certified Bootcamp Instructor (Bootcamp University)
Certified in Advanced Sports Nutrition (ICS)
Certificate in Bodybuilding Contest Preparation (International Academy of Physique Conditioning)
Certified Hypnotherapist (Specializing in Fitness Performance, Weight Management & Addictions)
Martial Arts Instructor (15+ years training in Muay Thai, Kickboxing & Karate)
Karate Black Belt (Shotokan)
Award Winning Fitness Model & Figure Competitor
CPR/First Aid Certified
University of Western Ontario: Honours Degree in Business; Minor Degree in Psychology
VIEW MORE ABOUT ANA
About ANA
"Take care of your body, your mind and your spirit and everything else will fall into place. Make your own health and happiness your number one priority, because only then you truly take care of and make others in your life happy."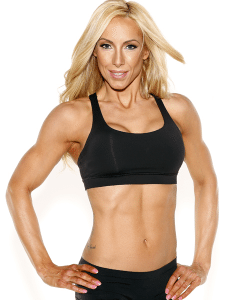 Ana has a unique background in fitness, hypnotherapy and working in various leadership roles in the corporate environment. This gives her outstanding qualifications on the subject of fitness, overall wellness and how to motivate others to achieve success. Since a young age and during her time working in executive management, she has been passionate about helping women reach their fitness, personal and professional goals.
She is the founder of Build My Body Beautiful, and a co-founder of The Social Woman – a community for Canadian women to socialize, network with other women in their city, and attend social events.
She created Build My Body Beautiful with the purpose of helping women build self-confidence through fitness. She started The Social Woman with a friend due to a personal desire to expand her own social network and meet new friends during a period she lived in Montreal.
After many years of working as a marketing professional and running The Social Woman part time, Ana finally made a decision to follow her dream and pursue a full time career in her passion of helping and connecting people and fitness.
Ana has an Honors Degree in Business from University of Western Ontario, and has completed a minor in Psychology. She is a professional Certified Personal Training Specialist, and a Certified Bootcamp Instructor. She holds a black belt in karate and has over 15 years experience in martial arts, including kickboxing. Ana is an award winning fitness competitor and coach and has placed top three with various organizations: IDFA (International Drug Free Athletics Association) and OPA (Ontario Physique Association).
Ana got her Professional Consulting Hypnotist Certification at the Hypno Healing Institute and is a student of Debbie Papadakis – one of the nation's leading hypnotherapist, who has been featured in Oprah's books and magazines, Elle Magazine, and Toronto Sun (to name a few).
In 2012 Ana received a Recognition of Excellence from the Continental Who is Who – an exclusive registry of professionals and executives who have demonstrated outstanding leadership and achievement in their occupation, industry or profession. She is a full member in good standing of The National Guild of Hypnotists and Can-Fit Pro and follows the NGH & CanFitPro of Ethics and Standards of Practice.
---
HOW I GOT STARTED IN FITNESS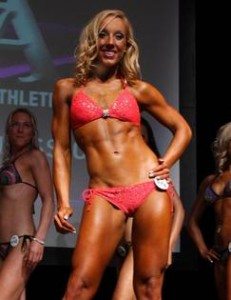 I have been very active since I was very young (I got my black belt in karate in my teens and spent many years in gymnastics, Muay Thai and kickboxing). However, I really became interested in fitness after I experienced first hand what happened to my body after just six months of being inactive. Half way through my first year of university (and not working out at all), I gained over 25 lbs.
My confidence, body image and self-esteem left me feeling depressed and helpless. I started going on fad diets, off and on exercise regimes, only to lose a few pounds and gain more back. Finally after two years of this battle, and "playing" in a gym, I finally hired a personal trainer to help me.
My life changed. My trainer believed in me, supported me, coached me through hard times and taught me proper training for my body. My confidence grew, I learned to love my body and I achieved a physique I never thought I could have.
Training and proper nutrition became a regular part of my everyday life. Forever grateful for conquering my weight and self-image battle, and taking my fitness beyond imaginable limits, I was inspired to help others achieve their goals. I dedicated myself to learning everything I could about fitness and nutrition and mastering the art of understanding the human body.
I became certified as personal trainer, a fitness trainer and a bootcamp instructor and started working with clients both on a one-on-one basis and through teaching classes.
---
HOW I GOT STARTED WITH BUILD MY BODY BEAUTIFUL
I spent many years working in the corporate world as a marketing professional and doing personal training, teaching kickboxing and running social events for women part time. While I enjoyed my full time career, I always looked forward to the evenings and weekends to see my training clients, watch them transform their bodies and see the shift in their overall happiness and attitude.
I finally made a decision to dedicate myself and pursue my passion for fitness and helping other people, so I left my job as a marketing director and began focusing on Build My Body Beautiful full time. When I created Build My Body Beautiful, I wanted to take it beyond just fitness training and approach fitness from a holistic point of view, bringing together all the principles I had learned. I wanted to work with women, because I felt I could relate to what it's like to deal with all the expectations from being a woman today.
A woman is expected to be: independent, but not too intimidating; social, but always make time for family; a career woman, but also head of the home; always look great, but never look like she is trying too hard; and of course she is always expected to keep it together. So I created programs that will not only help women lose weight and get fit, but empower them, build their self-confidence and create a better self-image so they can succeed in many other areas of their life. I also wanted to maintain a comfortable, social environment by running group training and monthly social events where women can help, motivate and inspire each other as well as expand their own networks.
Today there are over 1500 members in The Social Woman across Canada and I have met many of them through the social events, my boot camp classes, as well as one-on-one training. I am so grateful to have the opportunity to do what I love and help change people's lives for the better.
Co-Owner of Build My Body Beautiful
Award Winning Fitness Competitor
Fitness Author
Personal Trainer/Competition Coach
Certified Personal Trainer Specialist (Can-Fit Pro)
Certified Bootcamp Instructor (Bootcamp University)
Advanced Sports Nutrition Certificate
Award Winning Fitness Model & Competitive Bodybuilder
CPR/First Aid Certified
Ryerson University: Politics and Governance
VIEW MORE ABOUT IVAN
About IVAN
"Your mind is the most powerful tool you possess. Once your mind is fine-tuned for success, only then you will achieve what you wish. Decide what you want, work towards it and disregard how hard it seems at the moment. Great things takes time to achieve, but it so worth it!"
With a background in Greco-Roman wrestling, Ivan knows that fitness is the key to top performance in ALL areas of life. But much more than just wrestling, Ivan is a top personal trainer and fitness pro, whose clients have included stay at home moms, working women and professional athletes. No wonder his clients say he knows the right program for every situation.
Ivan's passion for fitness goes beyond himself. He made it his mission in life is to educate and encourage others to be their best selves and get the most out of life. He believes that the path to success lies through being healthy and fit.
Ivan's philosophy about fitness was influenced by his early wrestling coaches at the national team. He was taught that in order to achieve success in competitions you first need to prepare yourself mentally. Since then, he perfected this technique to the max and today possesses a Sports Specific and Weight Management Hypnotherapy Certificate to help his clients achieve the best results possible by changing their outlook.
Throughout the years of working in the fitness industry, Ivan's love for challenges lead him to step on stage and compete in various fitness competitions. He has achieved a great success and won numerous awards competing in the heavy weight class on multiple bodybuilding and fitness contests.
Today, Ivan has joined forces with Ana Plenter (the founder of Build My Body Beautiful) and has become the vice president and the co-owner of the company. He is also the co-author of the Body Beautiful Diet series and the head coach at Build My Body Beautiful Boot Camps.
---
HOW I GOT STARTED IN FITNESS
I have been an athlete since I was 10 years old and was involved in many different sports, from Greco-Roman wrestling to Wu-Shu martial arts, from soccer to track and field and more. I have always had an incredible respect for all of my coaches and have always wanted to help other people achieve their goals in life. I truly believe that with a strong will power, you can achieve some amazing things. My coaches always told me that even the tallest buildings in the world were someone's ideas first, before they become those magnificent, complex architectural structures.
I went to school for Political Science at Ryerson University, downtown Toronto, but soon realized that working at the office is not for
me. I wanted a bigger challenge and something more rewarding than being caged in-between four walls. After university, I studied hard and earned my Personal Training Certificate from American Council on Exercise. I am also a member of the Canfitpro network (Canadian Fitness Professionals) and follow the Canfitpro Ethics and Standard of Practice with great pride. Before joining forces with Ana at Build My Body Beautiful in 2012, I worked as a trainer for 5 years for a big fitness club.
Fitness is not just a job for me, it is my passion and I simply love what I do. Helping women look good is the most rewarding thing I have ever done in my life. They say, that you are truly happy when you make someone else happy. Working with women and helping them to boost their confidence through fitness, makes me the happiest guy alive!
Coach at Build My Body Beautiful
Award Winning Bikini Competitor
Registered Dietitian
Personal Trainer/Boot Camp Instructor
Certified Personal Trainer Specialist (Can-Fit Pro)
Registered Dietitian, MHSc
Masters Degree in Health Science and Nutrition Communication
Culinary Certificate from Liaison College
Award Winning Bikini Model with Ontario Physique Association
CPR/First Aid Certified
VIEW MORE ABOUT ALYSHA
About ALYSHA
"Your mind is the most powerful tool you possess. Once your mind is fine-tuned for success, only then you will achieve what you wish. Decide what you want, work towards it and disregard how hard it seems at the moment. Great things takes time to achieve, but it so worth it!"
Alysha proves that you can come from a point of being ill to reach any goal you truly set your mind to, overcoming physical barriers and proving to herself and others she could do it. To most who have met her, they do not realize all her struggles with health problems she has dealt with to now be a provincially qualified OPA athlete, registered dietitian, personal trainer, a high fashion model and motivational coach.
Aly received her Bachelors of Applied Science in Human Nutrition at the University of Guelph accredited by the Dietitians of Canada. She graduated at the top of her class, being awarded with academic scholarships to pursue post graduate studies. At Ryerson University, she completed a Masters of Health Science in Nutrition Communication with an integrated dietetic internship to become a registered dietitian. Over the years, she has gained experience working with diabetes, cardiovascular disease, Celiac Disease, IBS, IBD, weight loss, muscle gain, sports performance, family meal planning, menu planning, mental health and more. Aly has helped many individuals reach their nutrition and fitness goals through integrating her expertise as both a dietitian and personal trainer. She has also obtained culinary training at Liaison College in Oshawa.
Alysha has always been interested in helping people from a young age. Growing up, she found herself frequently in the kitchen, intrigued by food and how it made people feel. However, she was not aware of the world of nutrition and health promotion until she encountered her own health problems in high school.
During this time, she got diagnosed with Celiac disease, Intractable Irritable Bowel Syndrome, Melanosis Coli and Ischemic Colitis. Struggling at an all-time low weight she was referred to a dietitian to aid in re-nourishment by developing a dietary to attempt to regain weight without success. This interaction fueled her desire to enter the profession and learn more to help other women achieve health. Later in her university undergraduate degree, she discovered fitness and began lifting weights after encouragement from classmates and instantly fell in love. This new part of her life fueled her to get back involved various athletic activities and obtained her personal training certification. Shortly after moving to Toronto to pursue her master's degree at Ryerson University she decided she wanted to see how far she could go with her progression with fitness and decided to compete at a regional fitness show.
As a previous competitive swimmer, basketball player and athlete growing up and in high school, the urge to compete made the progression into the training and competition world quite seamless with the mentality already established. Given all the continuous chronic health problems she dealt with, competition prep took a lot of trial, experimentation and patience, but mental dedication and the nutritional know-how helped her reaching her goal in competing in two Ontario Physique Association competitions, placing top 5 and qualifying to continue competing at higher level contests.
Alysha lives by a personal mission to use her optimism, charisma and intelligence to positively influence others, acting as a trustworthy mentor to help support them with progressing to their goals. By translating and delivering high quality, evidence-based nutrition information she wishes to empower individual clients and groups, promoting optimal physical performance, lifestyle and nutrition care. Proving that any barrier can be overcome, she wishes to help and inspire others to reach their goals.
Coach at Build My Body Beautiful
Award Winning Bikini Competitor
Personal Trainer/Boot Camp Instructor
Canfitpro Personal Training Specialist Certification
CPR-First Aid Certificate
Bachelor of Arts, University of Windsor
Public Relations Certificate, Ryerson University
VIEW MORE ABOUT CHRISTINA
About CHRISTINA
"A river cuts through rock, not because of its power, but because of its persistence. Nothing significant in life happens by itself, the most challenging roads lead us to the most wonderful places."
For most of her life, Christina was fit, strong and active. On the inside at least. Frustratingly, on the outside she had curves in all the are tire that never responded to any weight loss efforts. After years of working at a sedentary job, a long commute and eating way too much take out, she was resigned to wearing leggings and long sweaters to hide her lower body bulges. Many failed diets led to frustration and further weight gain.
Christina had dreamed of one day stepping on a fitness competition stage, but at very least, wanted to look as fit as she felt, and be more confident in her body. A Google search led her to Build My Body Beautiful, and she decided to sign up for online training. That was when everything changed.
Coach Ana gave Christina a sensible diet plan, along with a challenging workout routine. Finally, the inches and pounds began to melt off, revealing the muscles she had been building for years. After eight weeks, Christina's dream of competing was finally looking realistic, so she and Ana started to plan out the next challenge. Only nine months after signing up for online training and 40 pounds leaner, Christina took to the stage at an OPA competition, taking first place in Masters Bikini! 
Since then, she decided to give up the desk job permanently and devote her work to helping other women realize their fitness potential. She became a certified personal trainer and joined Body Beautiful as a coach and boot camp instructor. 
Outside the gym, Christina keeps active by kayaking, swimming and doing yoga. She loves to experiment in the kitchen and create healthy recipes that taste great. She is also a freelance writer and marketing consultant.
Christina hopes to inspire any woman who wants to make changes in her life and knows that with the right help, anything is possible!
Coach at Build My Body Beautiful
Award Winning Bikini Competitor
Personal Trainer/Boot Camp Instructor
Canfitpro Personal Training Specialist Certification CPR-First Aid Certificate
Bachelor of Arts Honours, University of Western Ontario
Master of Arts Degree, University of Western Ontario
Ryerson University
Bachelor of Education, University of Toronto
VIEW MORE ABOUT ALANA
About Alana
"If it doesn't challenge you – it doesn't change you".
Alana received her Bachelor of Arts Honours Degree, and Masters of Arts Degree from the University of Western Ontario. She graduated top of her class, having her Masters Thesis academically published. She went on to receive a Bachelor of Education Degree from the University of Toronto, specializing in Health and Physical Education.
Upon graduation, Alana began working as a High School Physical Education Teacher, where she was able to combine her passion for helping others, with health and fitness. Throughout her years as a Physical Education Teacher, Alana has coached and inspired countless individuals to reach their full athletic potential.
Wanting to broaden her scope of impact in the realm of health and fitness, Alana made the decision to pursue a full-time career in fitness and become a certified personal trainer, joining Body Beautiful as a coach and bootcamp instructor. Alana truly believes in order to be the best version of yourself, you must continually go outside your comfort zone, and push past your perceived physical and mental limits.
Alana hopes to continue inspiring women to unlock their true potential, and accomplish the fitness goals they've always dreamed of. With dedication, consistency, and an open-mind, you can reach any goal!
HOW I GOT STARTED IN FITNESS
Fitness has always been an integral part of my life. At the age of four, I began taking dance and went on to become a competitive dancer, competing for over 15 years at the national level in Ballet, Contemporary, Jazz, and Hip-Hop. In addition to dance, I was a gymnast, and a cheerleader, all of which kept me extremely active and fit.
Once I graduated from university, and my dance career came to a close, I felt a deep void, as dance had become a defining element of who I was. Wanting to keep exercise a central part of my life, coupled with my desire to feel physically challenged again, I turned to weightlifting. I was amazed by how quickly my body began to change; I was stronger, leaner, and more confident than I'd ever felt before.
Motivated by these positive changes, I sought out a personal trainer to push my training and physique to the next level. The trainer who would help me accomplish this was Coach Ana, owner and founder Body Beautiful. From our very first consult, my life would change completely, as I decided to embark on a journey to compete in my first ever fitness competition. In only 10 weeks, Ana transformed my body in ways I never imagined possible and I took second place at the Toronto OPA Competition, qualifying for Provincials.
Since then, I have dedicated myself to becoming a well-rounded, functional athlete, continuously challenging my body and mind by undertaking new disciplines within the realm of fitness. I truly believe that: "if it doesn't challenge you, it doesn't change you" and I apply this practice to my life. I have travelled to Thailand to train in the art of Muay-Thai Boxing, and received first-hand training from some of the Thailand's top instructors. I have also trained extensively in Crossfit, Olympic Lifting, Yoga and I have undertaken to train for my first Marathon!
Coach at Build My Body Beautiful
Healthy Eating and Weight Loss Coach
Personal Training Specialist
RAB C.O.R.E. Certified
Massage Therapy Certificate (Sutherland-Chan)
CPR/First Aid Certified
VIEW MORE ABOUT LISA
As a young girl, Lisa did not always make the best lifestyle choices. She was unaware of the relationship that food had on the body and mind, and was not motivated to work out or participate in sports due to awful coordination. As a result, Lisa was overweight and lacked self-confidence. It was when Lisa turned 16 that she decided to change her bad habits, not only to look better, but to become stronger, have better endurance, and hopefully gain a better outlook on life altogether. Lisa did her own research and began cooking and preparing her own meals, and developed a workout plan – starting with workout DVDs and progressing to weights and boot camp classes at the gym – and as a result lost over 50 pounds, and gained muscle, strength, and stamina. In addition, Lisa built confidence in herself in all aspects of her life. Achieving this goal is what motivated Lisa to want to bring that confidence and self-love to other women, while also helping them achieve weight loss goals.
Lisa went to school at the University of Guelph-Humber and graduated with distinction for Media Studies and Public Relations. While she was in school she trained with the cross-country team, inspired friends to get active, and motivated other gym members to keep up their hard work and dedication by pushing them to find time in their busy schedules or challenging and encouraging them when they hit plateaus. During this time Lisa realized she didn't want to work in an office, and once she graduated she got her Personal Training Certification through Canfitpro and began taking on one-on-one clients and running boot camp classes at the local gym. Lisa has worked with a diverse range of clients of all ages, with varying fitness goals, including athletes who wanted to cut their race times or needed sport specific training, stay at home mom's who wanted to do something for themselves, or overweight clients who wanted a complete overhaul. Lisa understands that it isn't just about making a plan, but about creating a sound and well-rounded fitness program for that individual, in order to drive results while keeping it fun and sustainable.
Two-years ago, Lisa was diagnosed with a severely aggressive form of Ulcerative Colitis. In this time she was not able to move for more than 3-4 hours a day without becoming exhausted or having severe pain. She found solace in doing Hatha yoga and has been an active yogi ever since (now taking on advanced Power, Vinyasa, and Aerial Yoga). At her worst, Lisa was unable to eat most foods and as a result had to relearn how to feed herself under these new restrictions. It was a difficult time, and she lost some muscle mass. However, after a few months of treatment her condition improved, and while Lisa still lives with her illness she has found new ways of feeding her body through obtaining her Healthy Eating & Weight Loss Specialist Certification and working with nutritionists to help understand how her disease impacts her body. In addition, she gained back most of her strength and endurance and regularly participates in half-marathons, CN-tower stair climbs, and other fitness challenges for charity.
Lisa is currently getting her Masters in Philosophy and is a teaching assistant at Ryerson University. In addition, she has recently completed a Massage Therapy course at Sutherland-Chan School of Massage Therapy and hopes to begin training to be a yoga instructor within the year. She understands the importance of striking a work-life balance, and the struggle to stay active with a demanding workload, and the negative effects that stress can put on the body. As such, she strives to stay active and mindful in order to counter those effects, and encourages others, who so often feel they don't have the time, to make the time and put in the effort for themselves. Lisa truly believes everyone is capable of achieving their fitness goals, and finding self-love, but most importantly, that they deserve it! Her motto? Small steps lead to great strides. So, keep smiling!