Women's Fitness Boot Camp in Toronto
Voted Best Fitness Boot Camp by The Readers of BlogTO and Now Magazine
Ladies!!! Would you like to:
Create a sexy lean, fit feminine body?
Get rid of stubborn body fat?
Lose those annoying extra pounds?
Flatten & tone your belly?
Slim down your legs & firm up your booty?
Improve self image and feel great from inside out?
Train in a safe, supportive, and friendly atmosphere?
Improve your overall health and be more physically active?
Get the motivation you need to get started?
Socialize and meet other women with similar goals?
You're a busy professional woman living or working in Downtown Toronto.  Eating well is a challenge and you don't have endless hours to spend working out, but you love a lean, feminine look.  Not to worry, we have the answers!
We are Toronto's leading women's fitness experts, having helped more than 3,000 Toronto women like you transform their bodies.  If you're looking for a fun, energizing workout with an amazing group of dedicated women that will absolutely transform the way you look and feel by the shortest route possible, you've come to right place!
Your Bootcamp Program Includes:
Fun and Challenging Fat Burning Workouts
Workouts Specifically Targeting Legs, Butt and Belly to Highlight Feminine Physique
Nutrition Guide to Help You Feel Great and Get In Shape
Regular Body Fat Measurements and Progress Review
Adjustment of Exercises to Suit Your Needs and Limitations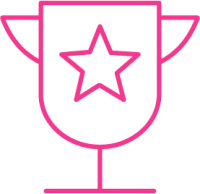 Motivation and Support from Your Coaches and Teammates
Where: Virtual Bootcamp (via Zoom)
When: Tue 6.45pm & Sat 10am
Price: 4 Weeks $149 (8 classes)
Next program starts Tue, Nov 17th!
Build & Burn: Ultimate Fat Loss Fitness Bootcamp in Toronto
This program is for those who want to put their weight loss into high gear! This class uses your own body weight to build strength and endurance, and burns 600-800 per class. The program is split up into two segments 30 mins of  "BUILD" consists of resistance training using body weight exercises, and some common household item and 30 mins "BURN" cardio/plyometrics. As we move through the program, more advanced exercises are introduced, rest time is a lot shorter and and the intensity is higher.
Who is it for?
Perfect for women who  looking to drop excess weight (10lbs or more) and decrease body fat. Ideal for those who are looking for a structured at home workout program and do not have access to any workout equipment.
What do I need?
Computer/phone & internet to access classes online via Zoom
Some household items may be used for exercises including chair, pillows, cabs/water bottles
Where: Virtual Bootcamp (via Zoom)
When: Mon & Wed @ 6:30-7:30pm
Price: 4 Weeks $149 (8 classes)
Next program starts Mon, Nov 16th!
Fit & Firm – Shape & Tone Bootcamp Toronto
This program is designed for women who have a previous experience with exercising and working with gym equipment, such as dumbbells, kettlebells and barbells. It focuses primarily on strength exercises that target abs, butt, legs, shoulders and arms to help you shape your body. We use advanced exercises and circuit weight training with shirt bursts of cardio in between.  These workouts will challenge you and help you build lean muscle, in a fun and supportive atmosphere of peers and coaching.
Who is it for?
Perfect for women who want to burn body fat, lose those last 5 to 10lbs and get a lean toned figure. Best suited for intermediate participants, who are currently active or those who have attended our boot camps in the past. It is ideal for women, who enjoy weight training that would like to learn new exercises and get a good lifting session in a fun environment.
What do I need?
Computer or phone and internet connection to access our class online via Zoom
A set of medium dumbbells (10-15lbs) or one medium to heavy kettlebell or dumbbell (15lbs-25lbs) or medium to heavy resistance bands
"My mission is to introduce health and fitness into women's lives, and empower them to lead a healthy lifestyle, create a positive self-image and feel confident from the inside out."
Ana Plenter, Founder & Award Winning Personal trainer Toronto