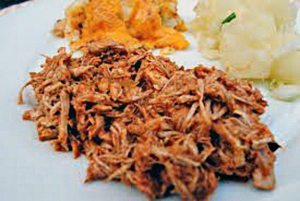 One reason I love carb-cycling is because it does not require much effort. Yes, you may need to watch out for carbs, during the low-carb days, but they are easily replaced with more vegetables and some healthy fats. The best part is that carb-cycling can be done indefinitely and is unique in a way that it can do both – build lean muscle and burn fat at the same time. It hardly can be called a diet, since you get to eat whatever you want on your (scheduled) "cheat meals".
This recipe does contain some tomato sauce – but for a 2lb of chicken the carb content will be very low, when broken into portions. Make up a large batch of this and have it throughout the week on Ezekiel bread or roasted sweet potato on high-carb days, or on top of salads, or your favourite vegetables for a low-carb dinner. Can be frozen and thawed for convenience.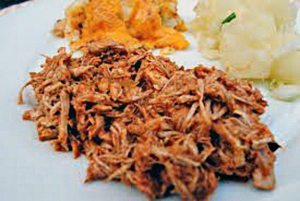 Carb-Cycling Pulled Chicken – What You Need:
1 1/2 cup canned tomato sauce (it is about 16g of carbs per cup with 4g of fiber)
2 tbsp. plus 2 tsp. cider vinegar OR red wine vinegar
stevia to taste
2 tsp. garlic powder
2 tsp. onion powder
24 oz. (2lbs) raw lean skinless boneless chicken, breast and thighs
1/8 tsp. black pepper
2 cups roughly chopped onion
Optional seasoning: red pepper flakes
Carb-Cycling Pulled Chicken – What You Do:
In a slow cooker, mix tomato sauce, vinegar, stevia, and garlic powder. Season chicken with pepper and add to the pot. Top with onion and lightly stir.
Cover and cook on high for 2 to 4 hours or on low for 5 to 7 hours, until chicken is cooked through. Times may vary based on slow cooker.
Transfer pork to a large bowl. Shred with two forks–one to hold the meat in place and one to scrape across and shred it. Return shredded chicken to the slow cooker and mix well. Mmmm . . .
MAKES 6 SERVINGS
About the author : Ana Plenter