With the weather getting cooler and the days getting shorter, we tend to crave those hearty comfort foods to fill our bellies and keep us warm. What's better than a warm fire, fuzzy blanket and a big bowl of comfort food on a chilly fall or winter night? Salads don't seem to cut it but there are ways to get that sense of a soul satisfying comfort meal without the fat and calories of standard fare. Check out our 5 ways to swap ingredients for your healthy fall recipes!
Healthy Fall Recipes – 4 Ingredient Swaps that Will Keep Extra Inches Away
Swap #1 – Cheese
Casseroles are a fantastic choice, if you want to warm up with a delicious meal during the gloomy fall days. They are generally packed with flavour, goodness and of course calories. But fear no longer! They can be made without high-fat cheese, but instead with more calorie-sparing flavour enhancers such as organic stock, herbs, spices, parmesan cheese, wild mushrooms or root vegetables.
Swap #2 – Noodles and Pastas
When watching your waistline it's often better to seek out recipes that are full of flavour and spice to still feel indulgent without the richness of added fats and heavy carbs. Thai food is considered a healthy choice for the most part, as the recipes feature a plethora of healthy spices. However, many Thai dishes are quite high-carb and pack calories just as effectively as any other cuisine. To cut down on carbs and still enjoy the richness of Thai noodle soups, use shirataki noodles keeping the rest of ingredients the same.
Swap #3 – Baked Potatoes
What kind of fall dinner table it is, without a batch of freshly baked potatoes? Even though potatoes are a perfectly whole and natural food, they offer a hefty portion of starchy carbs. Unless you are going to workout right away to burn these carbohydrates, there is a chance that they will be stored as fat. On the other hand, sweet potatoes, turnips, pumpkin and other root vegetables are a surprisingly voluminous, contain less carbs and are packed with fiber, vitamins and minerals! Stuff them with healthy toppings such as pulled chicken; salsa and fajita vegetables; low-fat cottage cheese, and chives or other herbs. Be sure to pile some greens on the side. Yum!
Swap #4 – Gravy 
Nothing beats a home made gravy, but did you know that 4 table spoons of it amounts to almost 100 calories? Plus it is often made with white flour, for thickness, which is not always an option for those who are gluten intolerant. Here is a great way to make your gravy healthy and delicious: swap flour for xantham gum. Xantham gum contains 7g of fiber per table spoon and is completely gluten free!
Bonus: One of My Favourite Healthy Fall Recipes
Slow Cooker Fall Vegetable Turkey Stew
Yields: 4 servings (1P + 1SC each serving, if you are following the Body Beautiful Diet Plan)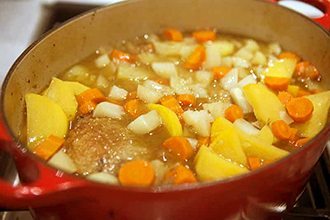 What you need:
16oz leftover roasted turkey cubed (chicken works too, you can use rotisserie chicken from the grocery store)
2-1/2 cups baby carrots
2-1/2 cups peeled and chopped butternut or acorn squash
1 onion, sliced
1 teaspoon thyme
2-1/2 cups vegetable broth
1/2 teaspoon sea salt
Chopped chives or parsley (optional), for garnish
What you do:
Put all of the ingredients in a slow cooker pot. Cover and cook over low heat for 4-6 hours, until vegetables are very tender. Top with chopped parsley or chives.
Feel free to mix up the protein source for extra lean ground meat browned in a pan before adding or cubed lean beef.
Parsnip, turnip and rutabaga work great to mix up the flavours. I like reducing the carrots to 1 cup and adding 1 cup parnsip and 1 cup turnip.
Looking for more delicious recipes? Download Body Beautiful Recipe Book with 100 delicious dishes that will help your weight loss!
About the author : Ana Plenter