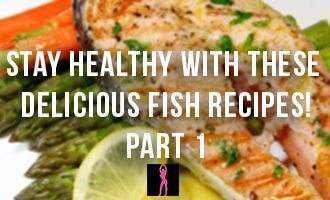 Healthy fish recipes are in high demand this year, so I decided to help all of my pretty ladies with a couple of tricks of my own. Having a culinary background, I love cooking and can attest that most of it quite simple, especially when you are eating whole, natural food. Today I hope to shed some light on ways to cook lean fish so you can start experimenting in the kitchen yourself and hopefully enjoy the fantastic tasting dishes yourself!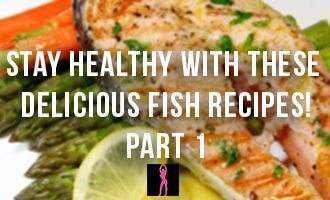 Lean fish to stock up on = cod, haddock, hack, sole, halibut, tilapia, basa, bass, catfish, grouper, snapper, tuna.
Most lean fish can be made using the methods described below. All of lean fish is cooked pretty much the same, so it is not important which type of fish you use, as long as you keep close to the guidelines.
3 key points to success with healthy fish recipes:
(1) Don't overcook fish as the texture will coarsen, dry out and the flavour will be destroyed.
(2) Don't go overboard spicing fish as it has very delicate flavours so be light-handed and steer towards herbs and spices.
(3) Keep fish moist and preserve the natural juices whilst cooking by using a moist cooking method or baste frequently during dry cooking.
Baking
One of my go-to ways of cooking large batches on meal prep day. Bake in a moderate oven 350-400F with a baking sheet lined with foil or parchment. It is a dry heat method and fish, especially without its skin, tends to dry out. Make sure you either marinade the fish in lemon juice mixed with fresh dill, or add a condiment/sauce to reduce the moisture loss. Top fish fillets with Dijon mustard (smooth or grainy) before baking to add moisture, flavour and an instant topping!
Best method for: cod, herring, halibut, bass.
Oven Steaming
Oven steaming by baking with the fish covered by foil or wrapped in parchment is an excellent way to retain flavour and moisture. Use a liquid such as vegetable stock, white wine vinegar or lemon juice with herbs, salt, pepper and seasonings of your choice before sealing the fish in foil. Bake in a moderate oven 350-400F for a mouth-watering result!
Best method for: All fish.
Pan Frying
One of the quickest healthy fish recipes, aside from the cooking it in the microwave. This technique results in food that's crisply on the outside and tender on the inside. Use a non-stick skillet sprayed with cooking spray, heated at medium-high temperature. You only need 2-3 minutes per side to cook through. Add salt, pepper and herbs as you cook it you impart flavour. Top with fresh lemon slices after cooking.
Best method for: slightly firmer fish like cod, sole, hack, halibut, tuna, herring.
Pan Poaching
This refers to cooking fish in an inch or less of flavoured liquid at a very low heat in a wok or frying pan. This healthy fish recipe gives a similar result to poaching with a slightly shorter cooking time, working well for very delicate, thin fish fillets that would break apart in regular poaching. Combine bouillon or spice/herb mixture (Mrs. Dash or similar blends work well) with water in a skillet. Add fish to liquid before turning on heat. Cook for 6-10 minutes depending on fish. Its cooked when it starts to flake when poked with a fork.
Best method for: tilapia, sole, flounder, snapper, pollock, basa, bass.
Poaching
This refers to totally immersing the fish in seasoned stock or court bouillon. Have a favourite herbal tea with a hint of lemon and ginger? Throw a few bags in a pot of water with some onions, garlic, salt and pepper. Green tea with fresh herbs impart major flavour into the fish. The liquid should be brought rapidly to the point where the surface begins to swirl but with no bubbles rising to surface (boiling should not occur). Add the fish and cook for 8-10 minutes on a reduced heat before removing (fishing) it out of the water. Perfect for reducing fat used in cooking while delivering an incomparable flavour.
Best method for: cod, haddock, hack, trout, catfish, grouper.
Grilling/Barbecuing
The direct heat will cook the fish quickly and right through without having to flip. Make sure the grill is well oiled/greased so you don't end up with a pile of flaked fish taking it off the grill. Make sure you baste if with liquid as soon as you place it on the grill to keep it from drying out. You can wrap it in tin foil for steaming on the barbecue or use a grill basket to ease clean up. Use your favourite salad dressing blend as a basting liquid, serving double duty taste.
Best method for: firmer-fleshed fish and juicy fish steaks like tuna, swordfish, whole sea bream.
Microwaving
Great for last minute meals for almost any boneless fish fillet. Spray a microwave‑safe dish with nonstick cooking spray before arranging fish fillets in dish so thicker portions are to the outside of dish. Add a bit of salt, pepper and dried dill on top. Make sure you cover the fish with a microwave cover to prevent splatter. Cook for 4-5 minutes on 50% power to prevent it from drying out. I suggest stopping halfway through to check the doneness so it doesn't overcook.
Best method for: All fish.
I hope that these healthy fish recipes will make a great addition to your cooking repertoire! Stay tuned for the second part of this blog with another 3 fantastic healthy fish recipes that will provide a mouth water delight and keep the extra pounds at bay.
About the author : Ana Plenter