Starbucks has sold more than 200 million Pumpkin Spice Lattes in the past 10 years. Even the makers of Pringles are getting in on the action. There is definitely something about this amazing fruit (and yes, pumpkin is a fruit) that most people like. So today, I will share with you my go to healthy pumpkin recipes!
Pumpkin: It's yummy and it's seasonal.
A quick wander around the grocery store reveals shelves full of the canned stuff on sale. And we're in the middle of a full-on flavor takeover!! There's pumpkin in your cookies, coffee and half the products in the store.
While most pumpkin-flavored treats should be added to the once-in-a-while list, pumpkin itself (not to be confused with artificial pumpkin spice flavoring) is actually one of the healthier foods of the season. Check out these benefits: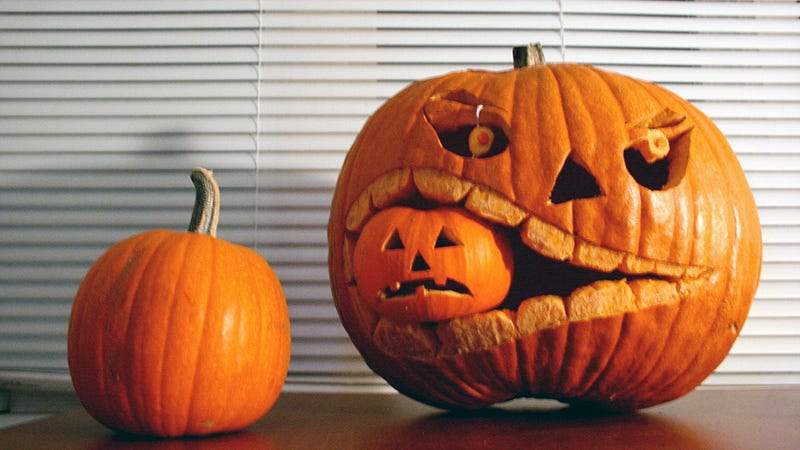 Health Benefits of Pumpkin
Feel Fuller: Pumpkin seeds pack about 1.7 grams of dietary fiber per ounce, while mashed pumpkin has only 50 calories per cup and 3 grams of fiber. "Fiber helps keep you fuller longer, which keeps your appetite at bay so you eat less overall.
Boost Vision: A cup of cubed pumpkin contains almost twice the recommended daily intake of vitamin A, which promotes good vision. Bonus: Vitamin A also helps form and maintain healthy skin, teeth and bones.
Lower Blood Pressure: Pumpkin is loaded with potassium which helps with electrolyte and fluid balance. The perfect post-workout to aid recovery.
Have a Healthier Heart: All that fiber can also help protect your heart and lower risk of coronary heart disease.
RELATED: PUMPKIN-CINNAMON OVERNIGHT OATS
That means pumpkin-laced desserts won't quite cut it. For a healthier way to add pumpkin into your diet, and finding a good use for leftovers can sometimes prove challenging. Whether you find yourself with a one tablespoon or one cup of leftover pumpkin puree, here are some smart (and delicious!) ways to use it up.
7 Delicious Healthy Pumpkin Recipes
1. Make your own pumpkin spice latte: For a lot of people this is the drink of fall. I say, why buy it when you can make it yourself! If you find yourself with just a couple leftover tablespoons of pumpkin puree, this drink is the number one reason why you need to save them! Mix 1-3tbsp pumpkin puree with 1tsp pumpkin spice, 1/2tsp vanilla extract, 1tsp instant coffee granules, 1 cup heated almond milk and a bit of your preferred sweetener for your own homemade healthier version.
2. Stir it into oats: This healthy pumpkin recipe is a delicious and cozy way to start any fall morning. Just stir a spoonful of pumpkin puree into a prepared bowl of oatmeal. I also love adding a dash of cinnamon.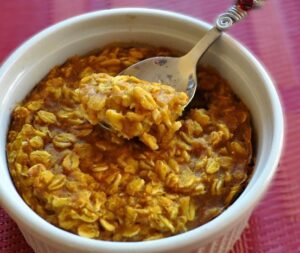 RELATED: HOW TO TIME YOUR MEALS TO LOSE WEIGHT FASTER
3. Add it to a smoothie: I've discussed adding pumpkin to your coffee, so why not your smoothie! Celebrate autumn and jazz up your smoothie with a little pumpkin puree.
4. Use it up in a baking recipe: From cakes to muffins, cookies and bars, there's no shortage of tasty fall desserts that use less than 1 cup of pumpkin puree. You can also use pumpkin pureed in place of butter/oil in muffin and cake recipes to decrease the fat content.
5. Turn it into a dip: With football taking over the weekends, fall is the perfect time for dip. Pumpkin puree works especially well with hummus. Make your next batch more seasonal with a few tablespoons of pumpkin puree blended in!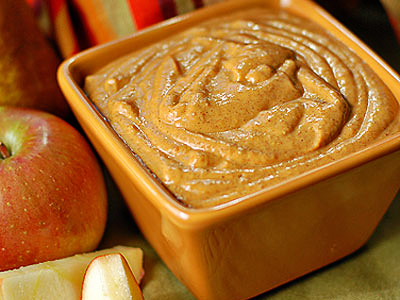 6. Stir it into your favorite chili or curry: One of the great things about chili is how versatile it is. You can add just about anything. So, whether it's one tablespoon or one can, I recommend adding pumpkin puree to your next pot of chili. The flavor isn't very noticeable, but just knowing it's in there is enough for us. Pumpkin puree also plays well with so many of the flavors commonly found in curries! You can make a whole recipe centered on squash, or just add a few tablespoons to a finished curry.
7. Pancakes: Fall mornings just got a whole lot tastier! Pumpkin pancakes just might be the most delicious thing to hit your breakfast table. Out of all healthy pumpkin recipes this is my favorite: mix an equal amount of oat flour and pumpkin. Once you achieve a nice consistency, pan fry it on coconut oil.
When you don't have a healthy pumpkin recipes in mind – freeze it! Simply spoon the leftover puree into an ice cube tray and place it in the freezer. After the cubes are frozen, remove them from the tray and store in a freezer container or Ziploc bag.
BOOK A FREE DIET CONSULTATION WITH ME
About the author : Ana Plenter