GET IN SHAPE AND LOOK GREAT
Dozens of workouts, over 3500 exercises and nutrition tracking
tools all in one mobile app designed exclusively for women!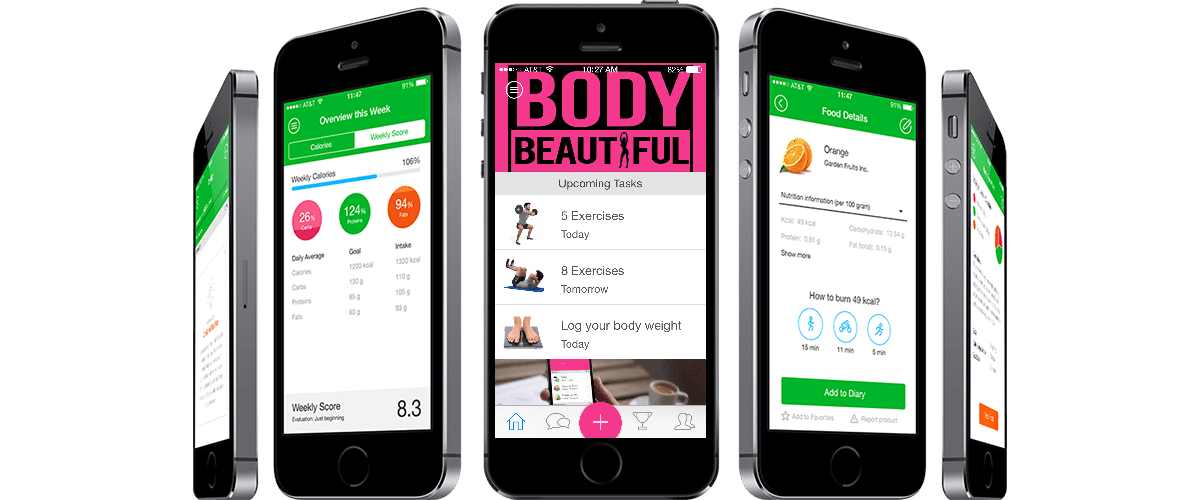 Workout at the Gym with Confidence
Choose from the state-of-the-art workouts designed by our top weight loss coaches.
Eat Healthy. The Easy Way.
Stay on top of your diet by tracking your food and managing your calories. Join the Community
Stay in touch with your coaches and peers in our exclusive online community. Participate in challenges, share ideas, make friends and win prizes! Track Your Progress.
Isn't it a great feeling to watch the inches melt? Log your results and view them in easy-to-follow charts and tables.
FIT IS RIGHT IN YOUR POCKET
Take care of areas such as belly, legs, butt and arms
Choose from 2,500 exercises – each comes with video demonstrations
Workouts for all fitness levels – novice, beginner, intermediate or advanced
Track your weight and other body metrics
Interact with other women with similar fitness and weight loss goals and share your success
Connect your FitBit, Twitter, and Life-Fitness accounts
Stay on track with your Body Beautiful Diet Plan by logging your food
Participate in monthly fitness challenges and win awards
I've been struggling to lose weight for years and am so happy to have found BMBB. The 8-week plan was easy to follow and very effective. I've been able to keep losing weight even after the program finished and have now lost almost 20 pounds.
Christina F
"I was able to lose the desired weight and feel healthier while not giving up important things in life (including having that bottle of wine or checking out that new restaurant)."
ST
"I'd like to thank Body Beautiful for getting me through the good and bad times of my prep and helping me stay positive."
Shereen D
Industry's top experts on women's wellness
Easy to follow workouts designed for working on problem areas like belly, butt, legs and arms
Nutrition system proven to provide maximum results
Motivation and support from women with similar goals
Available anywhere you go!