PERSONAL TRAINING TORONTO
Toronto's Leading Training Experts in Body Transformations
Personal Trainer Downtown Toronto
As a woman, you have unique needs and your own body type, fitness goals, and challenges to conquer and that's where working with an experienced personal trainer Toronto is invaluable.  We are the women's leading personal training experts downtown Toronto who can help. 
Build My Body Beautiful Personal Training is the home of best personal trainers in the downtown Toronto Financial and Entertainment District. Our team of industry's award winning and leading fitness trainers, prides itself with providing the very best fitness solutions exclusively for women.
We are experts at working with the female body, and understand exactly how to work on women's trouble spots, such as tights, hips, tummy, and back of upper arms.   We know exactly how to make you look and feel your very best!
We have worked with over 3000 women, helping them reach their own fitness goals by providing the customized personal training and diet programs, working closely together, motivating and supporting our clients to reach their highest potential. We believe in always putting our clients first and providing superior customer service, to keep our clients happy, motivated and most of all reach their goals.
Our philosophy is that training goes way beyond a training session booked with your personal trainer a few times a week.  Our number one priority is that our clients reach their AND maintain their goals.
We take a strong stand that training and proper nutrition, and regular client assessments go hand in hand, and we commit to providing our clients all the essential tools to get them exactly where they want to be.
We invite you to take a look at the information below and to contact us to discuss your specific goals and we can determine if we are a good match to work together.
Our primary personal training area of expertise are body transformations:
Fat and Weight Loss, Toning, Sculpting and Muscle Development, Fitness Competition Prep
Our Toronto Personal Trainers help women looking to:
Lose weight and burn off excess fat
Increase muscle definition, sculpt and firm your body
Lean out your legs, flatten your tummy and help all those trouble spots women start to notice especially with age
Look fabulous for a special event such as a wedding, a vacation, a reunion
Get familiar with exercises and make the best use of your gym
Break a plateau, especially if you are already active and need to change up your training/diet routine to keep getting results
Take your fitness to the next level – athletes looking for a new challenge
Prepare for a fitness bikini or figure competition/contest
(click here for info on competition prep)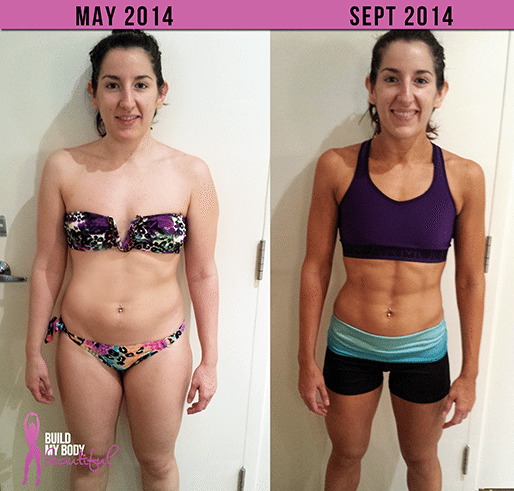 Is a BMBB personal trainer a right fit for me?
Whether you're a beginner or an athlete, have 10lbs or 100lbs to lose, or you're simply looking to improve your health – our personal trainers can help. The key is finding the right trainer for you; someone you feel comfortable with and who has proven experience working with clients that have similar goals to yours. When you work with a personal trainer, it's just as important for us to feel we can work well with you.  That's why we meet with you first and discuss your goals and history, to find out if we have a fit.
Our personal trainers specialize in working with women to help them create a lean, feminine physique, so they feel great, develop more confidence, and discover a positive new outlook on life.
At Build My Body Beautiful Toronto Personal Training we do not believe in cookie-cutter workouts!  Personalization is the key to our success.  You have your own unique body type and challenges.  That's why we start with a thorough assessment to identify your needs. Then, we can provide you with a routine that suits both your fitness level and goals. Our custom-designed plans are tailored to your individual needs to ensure you get the best results in the shortest time possible.
When you work with one of our personal trainers, you'll feel the confidence of knowing you're doing things correctly, so your workouts are effective and you avoid injuries.  And if you ever start to plateau, we adjust your plan so that you can keep making progress. We motivate you, help you to believe in yourself, and keep you accountable. Bottom line, if you're looking to work with a knowledgeable and caring personal trainer that will show you how to achieve your goals and have FUN while doing it…you've come to right place!
How often do I need to train?
For best results we recommend to work with one of our personal trainer at least 2 to 3 times a week. Depending on your fitness level and your goals, we may have some workouts assigned for you to do on your own (at home or at the gym). 
For any workouts that you do on your own, we use our very comprehensive Body Beautiful fitness portal & app, that gives you full instructions and videos how to preform your exercises.
Do I need a gym membership?
You do not need a an additional gym membership with us to work with a personal trainer at Build My Body Beautiful. We provide our clients a fully equipped 10,000 sq foot gym facility with change rooms, showers and lockers at partner studio CardioGo Fitness to use during our training sessions.
Clients who wish to do additional workouts on their own are welcome to use any gym membership they may already have, their home/condo gym or even workout at home.  We will accommodate your independent workouts to suit whatever you may have access to outside of working with our team.
What results can I expect?
If you're willing to stick to a balanced nutritional plan and workout routine (both of which we customize to your lifestyle), then you can expect:
Weight loss, fat loss
More muscle tone and definition
Increased strength and stamina
As our focus is working with women, you can also expect more success in areas such as:

Getting rid of stubborn body fat (hips, thighs, lower abs)
Building a round head turning booty
Leaning out and toning legs, shoulders and arms
Reducing the waistline to achieve the perfect hourglass look

Better posture and confidence that will show in the way you move
A boost in energy levels and concentration throughout the day
Never again be unsure of what to do!  Feel excited about your fitness program
Improved overall health, less stress, and avoid injuries
Overall better life quality – once you grasp control over your body, you find many other areas in your life seem to improve
Improved confidence and better mood
Where do the personal training sessions take place?
OPTION 1: Come to us – train at our downtown Toronto studio
IN STUDIO TRAINING
We offer personal training at a beautiful fitness facility downtown Toronto near the financial/entertainment district (King and University area). You do not need to be a member of the gym below if you have purchased a personal training package with us.
King & John: @ King West Club (CardioGo)
266 King St W
Toronto, ON M5V 1H8
Less than 5 minute walk from St. Andrew subway
The facility is fully equipped and has nice change room facilities, with lockers and showers. You must book an appointment with one of our fitness specialists first, as we do not allow walk-ins.OPTION 2: Our personal trainer comes to you
CONDO / IN HOME TRAINING
From time to time we may also offer personal training in your condo gym if you live in the downtown core area. We have trainers who are able to travel and meet with you as long as your condo has a some gym equipment and you are able to train off peak hours. Additional charges apply for in-home training.
Please contact us first to discuss your needs and training preferences.
What days & times are you available for a session?
Personal trainer availability:
Monday to Friday: 6 AM to 9 PM
Saturdays and Sundays: 9 AM to 4 PM
Our fitness specialists will create a schedule that is suitable for you and will assign your days and times of training, to see you on a regular basis.
What's Included in the Personal Training Package?
A fun, informative and challenging 60 minute workout with your personal trainer
Custom training program for you to follow on your own at home or at the gym, if needed – created through our fitness portal/app with full instructions and video demonstrations of all exercises
Customized diet and nutritional guideline specific to your goals
Full fitness assessments to measure cardio, endurance, strength and flexibility to tailor an effective fitness routine to suit your body
Body composition analysis: including full measurements, weight, body fat percentage
Goal setting and tracking tools to keep an eye on your progress
Regular measurements to ensure accountability and that you don't hit a plateau
Continues updates to your workout program and your custom nutrition plan – so that you keep seeing results
Access to our Body Beautiful Fitness Portal and App: containing 100s of our workouts, nutrition tracking, recipes and a private member community
Before and After pictures (we do not publish any client pictures without their permission)
100% attention at all times, in order to guide you through the correct movements safely and effectively (form makes all the difference!)
Continues support, motivation and guidance – our #1 priority is your success 
Unlimited support via phone/email/text messaging – we love hearing from our clients!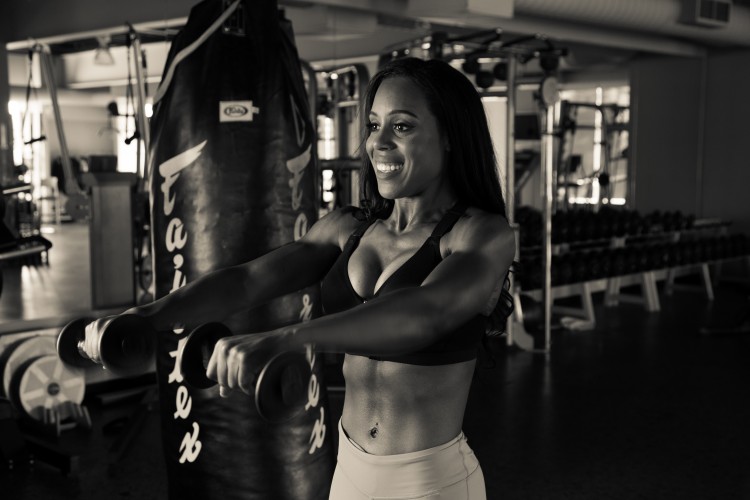 Ready to Transform Your Body?
8 Personal Training Sessions
16 Personal Training Sessions
24 Personal Training Sessions
Online Training & Diet Program
Please note that all session packages are paid in advance.