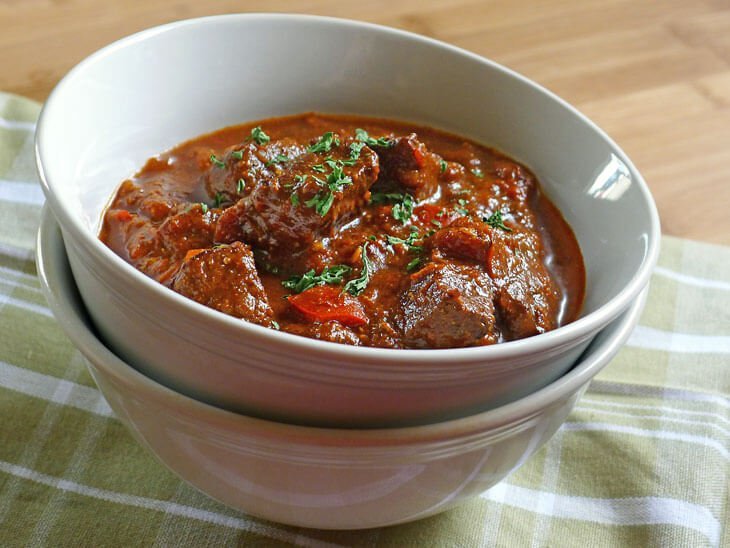 This is a Hungarian classic, and is so tasty and filling. You can make it lower in fat by using chicken, but it's really great with veal. All the ingredients in this hearty recipe are whole, unprocessed foods, which makes it a great high protein and low carb alternative for those who prefer to keep carbs on the moderate side.
The original recipe calls for potatoes, but we swapped them for cauliflower… which is just as delicious.
What you need:
2 lbs (1") cubed beef, veal
2 onions, white or yellow, finely chopped
2-3 garlic cloves, minced
2 tbsp coconut oil
2-3 tbsp Hungarian sweet paprika
2 bay leaves
1 Qt. water or stock
1 head cauliflower
1/4 tsp black pepper
1 tsp salt
2 tsp caraway seeds
What you do:
Add 1 tbsp of coconut oil to large pot and brown meat on high heat. Set aside.
Add 1 tbsp of oil to a frying pan and fry onions on medium heat until soft. Add garlic until browned.
Bring the pot with meat back to the stove and add the fried onions and garlic to it and set on medium heat. Add all spices and water or stock.
Cook for about 1.5 to 2 hrs (for beef or veal), and 20-25mins for chicken. The longer you cook the beef or veal the more tender it will be. The liquid will become thicker.
This dish can have many variations. You can add whatever veggie you want and serve it with any starch you'd like. It's awesome as a leftover so a great meal to make on a Sunday evening. Bon appetit!
About the author : Ana Plenter