Get in the BEST SHAPE of your life with the #1 Toronto Fitness
& Fat Loss Bootcamp Program – Next program starts December 3rd
Personal Trainer Toronto &
Fitness Boot Camp Classes
Build My Body Beautiful
5
Stars - Based on User Reviews
I joined around February and it was the best decision I ever made. i was looking to shred body fat. Lifting weights and strength training, etc were tough but my personal trainer, Christina has been very supportive and assisted me during the tough workout. She has been ongoing support via texts regarding to nutrition and diet, etc and giving me a push. She tells you what to eat and what not. Also to check what my meal plans will be Also with my inability to hear, we communicate using texts. I will continue more sessions with her. I am getting compliments on how I lost body fat/weights. I am excited to continue for more sessions. I highly recommend Christina and BMBB.

Vani D


I realized this year that I needed to get myself back on track as far as my fitness was concerned. I choose BMBB because I found them to be extremely professional in their approach and they fit my needs for what I was looking for. My sessions with Christina were really fun and exciting. I was happy to come to every session. Plus she knows how to motivate me, she made each of my training sessions challenging but rewarding. I would have no hesitation in recommending her as your personal trainer if you want to achieve your fitness and health goals.

Diana Dinatale


I chose BMBB based on their excellent online reviews, and I am so happy with my experience! It can be intimidating joining a new gym or program but Christina was approachable and made me feel comfortable right away. Her workouts were challenging and I never got bored as she always switched them up. I started noticing results and changes in my body after only a few sessions with Christina. For someone who had zero experience with weight training, it was awesome to see how much stronger I was getting. I would highly recommend Christina for anyone looking to get back into shape and find their confidence at the gym again! She is a great trainer and motivating person to be around. Thank you!! -Becca

R Wilson


Being vegan, I've found it next to impossible to find a nutritionist or trainer with successful results. Then I came to BMBB. Aly not only helped me get my diet on track & working for me personally, but she also coached me into the best shape of my life. While working with Aly I lost over 70lbs, gained muscle in places I have never had before & most importantly I've got a newfound confidence in myself. My body has undergone a complete transformation that never would have been possible without Aly and the BMBB team.

Lauren Piche


An online client, I lost 30 lbs in six months following Ana's programming (diet and exercise). Ana was always available to me via the app, social media or text for support and motivation. She helped me worked through plateaus and kept me honest and accountable. Most of all, the programming was challenging and fun, especially for a gym veteran. Thank you for unlocking the old me!

Trisha MacLeod

Join the Best Boot Camp Fitness Classes for Women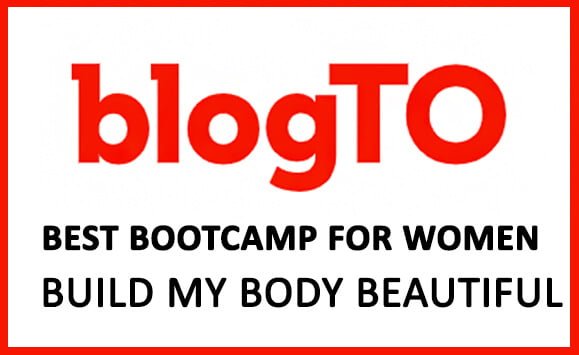 Build My Body Beautiful rated #1 for Group Fitness Boot Camps in Toronto by BlogTO & Now Magazine! 
Conveniently located Downtown Toronto, led by top female personal trainers, we bring to you Toronto's best group fitness boot camp classes and body transformation and weight loss programs for women!
Join our fun, supportive, social fitness boot camps with complete with a nutrition program to get in the BEST SHAPE OF YOUR LIFE!
Suitable for all fitness levels: beginner, intermediate and advanced programs available! CLICK HERE TO SAVE YOUR BOOT CAMP SPOT NOW
Founder & Award Winning Personal Trainer
"My mission is to introduce health and fitness into women's lives, and empower them to lead a healthy lifestyle, create a positive self-image and feel confident from the inside out."
Toronto Fitness and Weight Loss Services
Welcome! We are Toronto's leading weight loss and body transformation experts, helping over 3000 women get in the best shape of their life, look and feel amazing. Whether you are looking to lose weight, tone up, get ready for a special occasion or even give it a go to try a fitness competition we are here to help you every step of the way!
Personal Training Toronto
Train with Toronto's best personal training team, to lose weight and get in the best shape of your life!
Bootcamp for Women
Downtown Toronto group fitness boot camp classes and body transformation programs for women!
Fitness Competition Coaching
Personalized nutrition and training program and FULL bikini contest prep coaching and support from posing to stage make up.
Customized Diet Plans
Get a personalized nutrition plan by a Registered Dietitian to help you reach your athletic or body composition goals.
Fitness Toronto: Women's Fitness & Diet Blog
You're feeling so bloated. You can't stop thinking about eating chocolate and pretty much everything in sight. You are crying over the fact that Starbucks made your low-fat soy milk latte wrong. You just want to be left alone.... What is going on? Food cravings,...