Events that include barbecuing can be tough if you are trying to achieve weight loss goals. They can be even harder if you are someone who steers towards a more plant-based diet. Oftentimes you get stuck having a mixture of carb heavy side dishes, lacking in the protein department. Have no fear, I bring you this easy and delicious tempeh recipe!!!
Hesitant to try tempeh? Tempeh Is A Nutritional Super Hero!
It is high in protein relative to carbs and fats in it, and a good source of dietary fiber, iron, potassium, calcium, and phytochemicals like isoflavones. Unlike tofu and other plant-based proteins, it is fermented making it easier to digest! 
Since it is fermented, it also contains probiotics that help you digest it and replenish the good gut bacteria. This point is extremely important, as we are lacking fermented foods in our diets. During the fermentation process, the foods produce more nutrients than in their vanilla (original) state. Adding good gut bacteria will strengthen your immune system, fight inflammation and keep your digestive tract in check.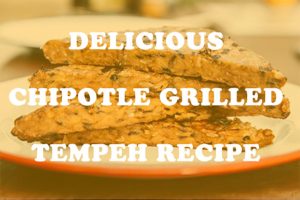 Chipotle Grilled Tempeh Recipe
Ingredients
3 tablespoons lime juice
2 tablespoons tamari soy sauce OR Braggs aminos
1 tablespoon chili powder
2 cloves garlic, finely chopped
1 1/2 teaspoon dried oregano
1/4 teaspoon ground cloves
1 tablespoon adobo (from a can of chipotles in adobo) or salsa
1 (8-ounce) package tempeh, steamed for about 10 minutes, cooled and cut into thin slices
Directions:
Whisk together lime juice, tamari, chili powder, garlic, oregano, cloves and adobo in a wide, shallow dish.
Arrange steamed tempeh in dish, turn to coat all over with marinade, cover and refrigerate, turning halfway through, for 2 hours or overnight.
Prepare a grill for medium heat cooking.
Grill tempeh, flipping once, until browned and hot throughout, 8 to 10 minutes total.
Transfer to plates and serve.
Looking for meat substitutes and in general, eating more plant based foods in your diet, but confused in terms of how to make the transition the right way? Book a free consultation with me to outline a precise strategy on how to cut back on meat in a healthy way!
About the author : Ana Plenter